It will be difficult for Nigeria to make progress on petty official corruption, or to enhance local security, without a robust conversation about the state of the Nigeria Police Force (NPF).  So President Goodluck Jonathan's announcement of a Presidential Committee on the Reform of the Nigeria Police should have been enthusiastically embraced by a public tired of paying bribes on the highway, or living among armed bandits who always seem to slip away. After all, citizens consistently report lower levels of trust in the police than the military — this in a country with a history of half a dozen dictatorships since independence.
Unfortunately, the Commission was destined to follow its predecessors into the dustbin, with limited terms of reference and little support outside of government, including among non-governmental organizations that had been studying the issue for years.  The Network on Police Reform in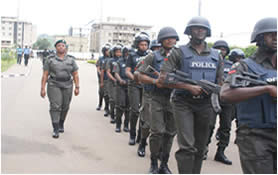 Nigeria opted to form a parallel reform process.  Its report amounts to a powerful critique of the administration's approach to the security sector, and it offers a thoughtful analysis of the deeper structural problems that undermine public safety and that lead to misguided strategies for dealing with Boko Haram and other security threats.  Some of the factors that undermine police effectiveness, according to the six-person panel of experts are:
A constitutional and statutory framework that has created a "lack of operational autonomy, which has led to politicization and lack of professionalism."  The constitution and the existing laws governing the police force need to be amended to distinguish between operational authority (which governs day-to-day functioning) and policy guidance.
An over-centralized command structure. One of the consultants to the panel explained to me that this is not simply an issue of decentralization, it also relates to the failures to curb corruption and hold abusive police accountable.  At present, reports of violations move up the existing chain of command, rather than being investigated by independent offices.
A lack of specialization, making the force ill-equipped to deal with complex crimes or to offer diverse career opportunities.
An unusually brief training period, with insufficient emphasis on human rights and community policing techniques.
You can download the complete report, "Civil Society Panel on Police Reform," here.  There is an especially thought-provoking discussion about whether the police should remain national, or whether subnational officials should have some control over police. Noting old concerns that this could contribute to the fragmentation of Nigeria, the panel said "these arguments are mere mantras" by people who wish to avoid "hard thinking."  The panel called for "a much more informed debate on the subject." The reality is that it will be difficult for the police to engage communities and build the trust needed for crime prevention, without some type of devolution of authority.  But state-level violence remains a serious issue, and Nigerian law enforcement needs to do more than put new wine in old bottles if it is going to seriously deal with Boko Haram and other complex public safety challenges.
"We have received numerous reports of mass arrests, extra-judicial killings, torture, and prolonged detention without due process of law.  While officials have initiated investigations in some of these cases, all too often those responsible have not been held accountable. Many Nigerians believe that the excessive use of force by security forces, often operating through Joint Task Force patrols, has alienated local populations and fueled support for Boko Haram."  –U.S. Assistant Secretary of State, Mike Posner
During a visit to Nigeria last week, U.S. Assistant Secretary of State for Democracy, Labor, and Human Rights, Michael Posner, pointed out that ending the insecurity requires prosecution of Boko Haram members for the use of violence, which has killed hundreds.  But it requires accountability all around.  "We are also seriously concerned about abuses by members of the Nigerian security forces in combating Boko Haram's extremist violence," he said in Lagos.
To be more effective, Nigeria's police will have to be more accountable.  Donors (including the U.S.), and some human rights groups will continue to have concerns about the wisdom of decentralizing Nigeria's police.  But the CSO Panel is right that it is time to have a more comprehensive discussion of the issue, and I find the argument that it could enhance accountability an important one to debate.