Round one is over in Burundi – score:  corruption/dictatorship 1 – democracy/freedom 0
In this guest post, Veronica Crowley (Twitter @veronicacrowle1), a frequent visitor to sub-Saharan Africa for HIV-related work, urges the US to do more to defend democracy in Burundi.
In a potentially deadly turn of events, Pierre Nkurunziza has not only claimed victory in an election deemed fraudulent by the International Community, but declared his inauguration would take place six days early.  This was announced on August 20th and took place later the same day;  six days ahead of the original date of August 26th.  If the International Community allows this to stand, it sends a message that Nkurunziza can violate laws, steal power, and keep the people oppressed, abused and hopeless.
The United States has no choice now but to act.  We pledged our commitment to democracy in Africa and in John Kerry's speech, May 2014 he said "We need to make certain that we grab the choice that seizes the future, and we need to refuse to be dragged back into the past".  Burundi is being dragged into the past by one man and if we do not counteract his actions immediately, other leaders will see it as a green light to do the same.
The United States must solidify a united front with the EAC; the AU; the EU and the UN and publicly call for Nkurunziza to step down and demand that credible elections are held in the presence of observers from the UN, EU and AU to ensure safe and fair treatment for all parties including a candidate, a different candidate, for the CNDD-FDD.  We must be prepared to place sanctions on Nkurunziza and his inner circle if he does not step down immediately.
We have said numerous times "never again" in John Kerry's own words in his declarative speech in May 2014 "And though we never forget — we never forget — how our first ties were forged in some of the darkest chapters of human history, we still start from a strong foundation."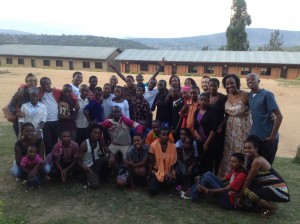 We are forgetting and history is repeating itself before our eyes.  The similarities between the Interahamwe youth militia in Rwanda in 1994 and the current youth militia in Burundi, the Imbonerakure, are chilling and cannot be ignored.  Like the Interahamwe in Rwanda, the Imbonerakure enjoys support from the ruling party.  The Imbonerakure is now facing a similar tense situation that is on the brink explosion and they are equip to unleash unimaginable destruction; like the Interahamwe did after the shooting down of President Habyarimana's plane in '94.  The US must work with the UN to disband and disarm the Imbonakure before they unleash more terror.
Let's never forget now!   Time for round two America!