Graduate Courses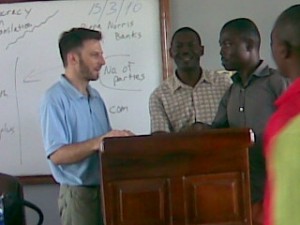 PhD Seminar in Comparative Politics Syllabus – fall 2017
African Political Institutions
Theories of Comparative & International Studies (SIS 672)
Representation in the Developing World, fall 2011
This was a one-time class co-taught with Professor Todd Eisenstadt, a Latin American specialist from the School of Public Affairs.  This course for MA and PhD students examined the limitations of democratic governance through both formal and informal mechanisms.  Click here to see the syllabus.
Undergraduate Courses
Freedom and Solidarity in Western Democratic Thought Syllabus – spring 2015
Contemporary Africa
Rebellious Africa: Identities, Institutions, Insurgencies Syllabus – spring 2016
Intro to International Relations Research 
Access some cool study tips and learning resources from the menu at the top.
We crave radiance in this austere world,light in the spiritual darkness,Learning is the one perfect religion.
-"Allegiance," by Elizabeth Alexander