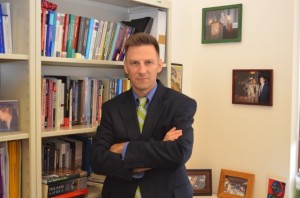 Associate Professor
School of International Service
American University
Washington, D.C.
Telephone: (202) 885-2457
Follow @Dev4Security
My research focuses on African political institutions, democratization, and political development. I teach courses on African politics, comparative politics, and political theory at American University in the School of International Service. I am the co-editor, with Patrick Ukata, of the Oxford Handbook of Nigerian Politics, forthcoming from Oxford University Press in 2018. I am writing a new book about the end of Nigeria's transition, which began with the death of the dictator Sani Abacha in 1998.
I have provided analysis and commentary on Nigeria as a guest on the PBS Newshour, NPR's Diane Rehm Show, MSNBC, Canadian TV, BBC, Al Jazeera, Amy Goodman's Democracy Now! and other programs. I am active with the African Politics Conference Group, a professional association that organizes panels at the annual conferences of the African Studies Association, the American Political Science Association, and at other academic meetings.
My latest book, published by Cambridge University Press in its Comparative Constitutional Law and Policy Series, is: Constituents before Assembly: Participation, Deliberation, and Representation in the Crafting of New Constitutions. In this global study, co-authored with Todd Eisenstadt and Tofigh Maboudi, we demonstrate the positive effects of participatory constitution-making on democracy. Specifically, we show first how participation is especially important at the earliest stages of crafting a new constitution. Further, drawing on field research from three continents, we show that participation is not endogenous to previous regime types (democracy or dictatorship). Click here to buy a copy, and click below to watch a short "video abstract" of the book.