Assistant Professor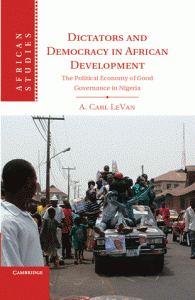 School of International Service, American University
Washington, D.C.
Telephone: (202) 885-2457
What are the conditions for good governance in Africa, and why do many democracies still struggle with persistent poverty? Drawing on a historical study of Nigeria since independence, my new book from Cambridge University PressВ  (pictured right) argues that the structure of the policy-making process explains variations in government performance better than other commonly cited factors, such as oil, colonialism, ethnic diversity, foreign debt, and dictatorships. I link the political structure of the policy process to patterns of government performance over half a century to show that the key factor is not simply the status of the regime as a dictatorship or a democracy, but rather it is the structure of the policy-making process by which different policy demands are included or excluded. But the number of political actors involved impacts these categories in different ways, generating a "Madisonian dilemma" that has important implications for African countries struggling with the institutional trade-offs presented by different regimes. Click here to read excerpts.
Briefly, about me:
I teach courses on African politics, comparative politics, and political theory at American University in the Comparative and Regional Studies Program in the School of International Service. My research focuses on African political institutions, democratization, and political development.
I have provided analysis and commentary on Nigeria as a guest on the PBS Newshour, NPR's Diane Rehm Show, MSNBC, Canadian TV, BBC, Al Jazeera, Amy Goodman's Democracy Now! and other programs. I am active with the African Politics Conference Group, a professional association that organizes panels at the annual conferences of the African Studies Association, the American Political Science Association, and at other academic meetings. I frequently organize events for American University's Africa Council.
What are the effects of the participatory constitution-making? My essay co-authored with Todd Eisenstadt and Tofigh Maboudi answers this question in the August 2015 issue of The American Political Science Review in an article, "When Talk Trumps Text: the Democratizing Effects of Participatory Constitution-Making, 1974-2011." Drawing on original research including a dataset analyzing 138 new constitutions in 118 countries, we find that citizen participation has a significant and lasting impactВ democracy, especially when it happens at the earliest stage of the process. This raises important questions about the emphasis on referendums as ratification mechanisms at the end of the process, and lends empirical support to deliberative theories of democracy. For a limited time, download the article FOR FREE, courtesy of Cambridge University Press Journals.