I am a professor in the School of International Service (SIS) at American University in Washington, DC. I teach courses on African politics, comparative political institutions, and political theory at the undergraduate, M.A, and PhD levels. I also teach two fun courses for freshman: one is called "Freedom and Solidarity," where we read Tocqueville and Rousseau and explore the effects of technology and political polarization on American democracy. The other course is entitled "post-truth America," where we explore the relationship between truth and democracy. I received my Ph.D. in political science from the University of California, San Diego in 2007 with an emphasis on comparative politics, political development, and political theory.  I am a super-size fan of the African Politics Conference Group, and I currently serve on the editorial board of Governance, a top ranked journal in both political science and public policy.
From 1993 through 1999 I worked for U.S. Congressman John Conyers, serving as his legislative director during the impeachment of President Bill Clinton and advising him on trade, foreign policy, and national security.  Highlights from that era include organizing congressional trips to Haiti, meeting Rosa Parks, hosting Howard Zinn, and organizing for transparency in the intelligence community. Drawing upon that experience, I co-edited a book with Institute for Policy Studies co-founder, the late Marcus Raskin, In Democracy's Shadow: the Secret World of National Security (2005).
In 2000, I served as the first director of the National Democratic Institute's legislative training program in Abuja.  In 2003 – 04 I went back to Nigeria to serve as a Visiting Fulbright Lecturer at the University of Ibadan, where I taught a course on comparative federalism.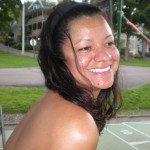 You can follow me on Twitter here: Follow @Dev4Security

I'm married to Mónica Arciga and we live in the lively, trendy Columbia Heights neighborhood with our two little boys. I love coffee, palm wine, live music in small clubs, and skateboarding.