"Representation Reconsidered" workshop in Nairobi, Summer 2011

I was one of four professors leading the American Political Science Association's Africa Workshop, along with my American University colleague Todd Eisenstadt and Tabitha Muyajmpit from Makerere University and Karuti Kanyinga from the University of Nairobi.  The Institute for Development Studies at the University of Nairobi will be hosted the workshop, the fourth in a multi-year effort supported by Andrew W. Mellon Foundation to encourage collaboration between political scientists in United States and Africa.
Workshop Themes
Over a period of two weeks, approximately 20 Africa-based political scientists and four American graduate students studied three interrelated themes under the banner of "Representation Reconsidered: Ethnic Politics and Africa's Governance Institutions in Comparative Perspective."
The first theme explored different philosophical bases for representative democracy, including the literature on democratization and recent analytical efforts to disaggregate illiberal regimes.  Participants evaluated the merits of different forms of representation inherent in "foundational" debates.  Readings will touch upon African understandings of political liberalism, formulating the argument for collective rights within historical nationalist struggles, contemporary surveys on identity, and the broader theories of multiculturalism.  Leveraging the different area expertise of the workshop leaders, seminars examined comparative cases from Latin America and Africa which share common obstacles to democratic development in order to illustrate effective use of case selection.
The second workshop theme explored different democratic models which reflect contrasting responses to the core questions and theories of representation.  Consociationalism, power sharing, and the more inclusive democratic models promote representation as a means of honoring citizen preferences, mitigating conflict, and improving the "quality" of democracy.  These models advance a holistic understanding of the interrelated nature of institutions and simplify the task of analyzing salient features of political party systems, executives, federalism, and electoral systems.  A critical examination of this research exposes potential tensions between representation and accountability, asking whether inclusive models privilege democratic representation at the expense of other democratic goals.  Veto player theory could offer an alternative model applicable across regimes.  These efforts must however balance "formal" institutions such as constitutions with more informal manifestations of political authority through local strongmen, traditional authority figures, and patriarchy.
The third theme focused on how the different models of democratic political representation impact public policy performance and resource distribution.  Participants reconsidered the consequences of consociationalism, multi-party coalitions, and "consensus" governments.  Rather than just considering conflict amelioration, sessions will draw attention to outcomes such as clientelism, corruption, the construction of inefficient informal institutions, and failures to deliver public goods.
Venue: Institute for Development Studies in Nairobi
The Institute for Development Studies at the University of Nairobi offered a world-class venue for the workshop, and the choice of Kenya will also afford a first-hand assessment of one of Africa's most important democratic cases.  Recent institutional reforms are transforming the relationship between ethnic identity and politics, breaking with harmful colonial legacies.  Ethnic violence followed the country's flawed elections in 2007.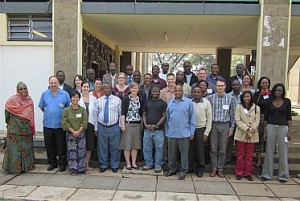 Like the representative models explored in the workshop, the principal solution involved power sharing among political parties.  The agreement quickly became cumbersome and unpopular.  However a national referendum in 2010 restored a sense of hope regarding the future of Kenya's democracy: by peacefully voting for a new constitution by a 2-1 margin, citizens gave a sense of legitimacy which is lacking from many constitutional reform processes across Africa.
Workshop Goals
In keeping with APSA's objectives for the Africa workshop series, one central goal is to help prepare participants to publish their work in US-based or other English language journals.  Participatory seminar sessions will aim to emulate the critical thinking at the root of the peer review process for scholarly journals.  A second goal is to improve the research design skills of participants by discussing examples of good research design in depth.  Finally, the workshop team aspires to establish lasting working relationships with the Africa-based scholars, including a possible follow-up meeting in Washington, DC.
Team Leader Backgrounds
Eisenstadt is the former chair of the Government Department in AU's School of Public Affairs.  He has published widely on Latin American political parties, social movements and ethnic politics.  LeVan's recent journal articles examine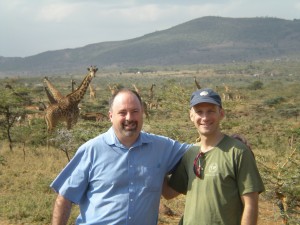 democratization in Nigeria, African responses to the U.S. military's Africa Command, and problems stemming from power sharing agreements in Africa.  Both scholars received their PhDs from the University of California, San Diego, and they collaborated on a 2009 workshop at AU on "The Consequences of Political Inclusion in Africa," funded by the U.S. Agency for International Development and the AU Africa Council.  Tabitha Muyajmpit teaches on the Faculty of Women and Gender Studies at Makerere University and works with the Centre for Basic Research in Kampala publishes on the politics of gender.  Karuti Kanyinga is based at the workshop's host institution, and has published numerous analyses of Kenya's power sharing agreement and land reforms.
To read more about the 2011 workshop in Nairobi, go to the APSA website at www.apsanet.org/~africaworkshops/