Development4Security welcomes this guest blog post by Medinat Abdulazeez
PhD candidate, International Studies, University of Zurich
Junior Researcher, Max Planck Institute for Social Anthropology, Germany
As I stepped through the gates, what struck me first was the filth. Heaps of debris overflowing huge metal containers with flies buzzing over tiny fragments. Filth was everywhere. In overfilled dormitories and almost crumbling tents made of crooked tree stumps. In choked pits used as restrooms. In algae-infested water puddles caused by clogged drainages. It seems incomprehensible that people lived in these camps. Inconceivable that people eat and drink in such environment. People sleep on tattered mattresses or simply on worn-out wrappers spread on the sandy floors of the shack-like tents. People ma

ted and got married, people bore children, people raised children in these camps! People lived in these camps – no, people did not live in these camps, they just merely existed.
Children milled around, running, smiling and shrieking. The first and only sign of innocence. Their faces smacked with dry mucus and eye specks. Hair tangled and grey with soothe. Lack of water means daily baths were unaffordable luxuries. So mothers have learnt the 'wiping method': using a piece of cloth to wipe essential parts of the body, and the head or hair was not considered essential to this process. International Organizations have promised to come fill the tanks they brought with water. When water comes, the hairs will get a thorough wash.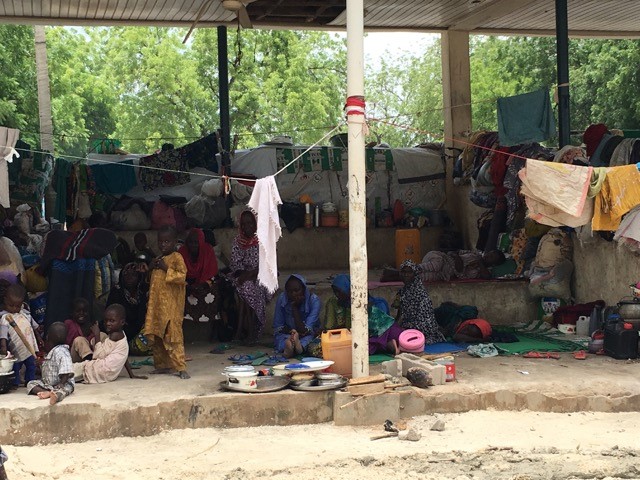 Women sat largely in groups and chatted. Laughed at each other's jokes and bantered endlessly. But the hollowness in their voices masked horrors they have witnessed in the hands of Boko Haram. The hollowness disguise scenes of watching loved ones butchered to death, of watching daughters being dragged away to be used as sex slaves by strangers with some crazy idea about building a new and glorious society by destroying the lives of the people around them. Together, these women are bound by their grief. Yet, in their grief, they remember to be different. To steer clear of women who have returned from Boko Haram camps with pregnancies or children. Their common grief does not equate them with women who have been raped and abused by camp officials or security agencies in IDP camps. In their grief, they do not forget to claim 'purity'. Their grief is not common with the women they refuse to sit and chat with. With the women they gossip about and make fun of. No, in their grief, they remember to uphold stigmatizing traditions that relegate abused women to pitiable positions in the society. Forlorn, the ostracized women huddle together. They laugh gingerly at my jokes. But I know not to ask how they are or how they feel. The answer is obvious in their shallow looks, their sunken gestures. Grief has paralyzed their emotions but being stigmatized by their own kin just crystallizes their anguish. Traditions that do not forgive their kind of victimization were unkind, but unfortunately, traditions are what they are, traditions.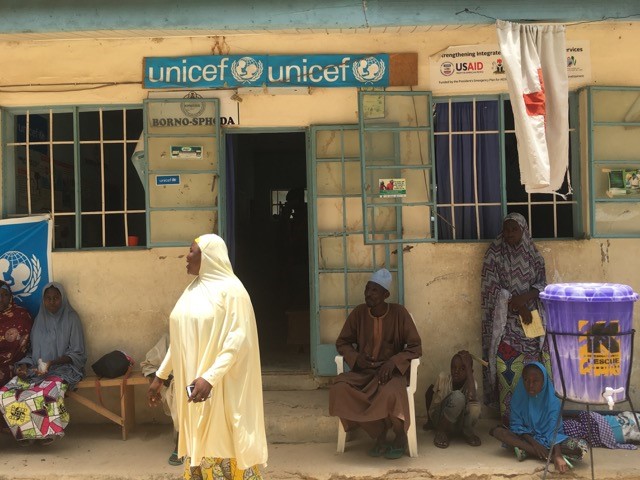 I wonder how camp and government officials sleep at night. Diverting aids and relief materials might seem normal in a country where government salaries do not suffice to pay a family's monthly bills, but doing this to victims of Boko Haram's insurgent and terrorist acts surely should feel different. How do they feel when they send trucks of grains meant for IDP camps to markets in other states? Does their skin gristle when they move packs of drugs from camp clinics to their personal dispensaries for sale? Do their hearts thump as they arrange mattresses, blankets and beddings into trucks at night for onward shipment to sell at urban markets? Do their pens tremble when they inflate IDP figures to increase allocations sent to each camp? Do they feel any shame when they invite family and friends into the camps to swell the population when important dignitaries visit? Do they believe their own lies when they announce that the IDPs are well taken care of? Do their chests not feel the weights of their deception? Do their rousing libidos not lull at the sight of the cheerless IDPs they sexually blackmail with relief materials originally meant for them? Is abandoning IDPs who get pregnant from a coercing camp official a part of camp officials' responsibility to protect?
A sign in the middle of the camp says: National Emergency Management Agency (NEMA) Authorized IDP Camp. Instantly, I am jolted to realization. The federal government is responsible for the welfare and wellbeing of the displaced persons. Then I wonder, is 'government' deaf? Dumb? Blind? Cold-Blooded? But government is made up of the people running it. And if the deplorable situations in these camps have gone on for such a long time without change, then those people are culpable by inaction and wrongdoings. Every child that dies of malnutrition; every woman that endures rape and sexual abuse from camp officials, soldiers or vigilantes in exchange for crumbs to survive or promises of marriage; every father that averts his eyes from seeing his teenage daughter pawn her dignity in the hope of bringing home a kilo of rice for her family; every bomb that goes off in IDP camps because security officials concentrate more on sexual gratification than protecting displaced persons; every woman that loses her sanity due to lack of proper medical care for victims of trauma; every woman that has endured the scorn of bearing the consequences of sexual abuse; every displaced person that has been victimized twice, first by Boko Haram, and now by people in whose hands their well-being has been entrusted; everything that is happening in IDP camps has proven that Boko Haram is not the only evil that needs confrontation.