Much of the attention on Nigeria'Äôs preparations for its national, state, and local elections scheduled for 2015 has centered on administrative reforms, technological innovations, and the law. This post aims to compliment such analysis by focusing on two themes shaping the political climate, drawing in particular on my research trip to Rivers State and Abuja. Future posts will touch upon the state of 'Äúgodfathers'ÄĚ in the states, and explore emerging campaign issues and other themes.
Center / periphery tensions
Unlike previous elections, training for the security services has begun in advance. Typically concerns have centered on preventing violence, but it is not clear how well the curriculum addresses the potential politicization of the police, which had been less of a concern following the 1999 transition than many observers feared. But last year in Rivers State, the police commissioner Mbu was fired for being openly partisan. Journalists and sources told me how police would show up at one rally to break it up and at another to protect the protesters. Governor Amaechi told me police still not free of partisanship, and he
supports state-level police 'Äď an issue before the national 'Äúconfab.'ÄĚ The police have barred members of the Rivers House of Assembly from entering their legislative chamber (see photo). The state Assembly is therefore meeting off sight in an old building, and after a full on fist fight on the floor last year over the parliamentary mace, when five People'Äôs Democratic Party (PDP) stalwarts attempted to convene the 32 seat Assembly, the Speaker is closely guarding the parliamentary mace.
Resources have been a recurring axis of state/center tensions for decades, and there have been some important shifts there too. The Speaker of the Ekiti State House recently said that even where state legislatures are productive, and government is not divided between different parties, dependence on the executive for funding is a problem (see 'ÄúState Assemblies Need Financial Autonomy,'ÄĚ TELL, 21 April 2014). Rather than doing hearings, they conduct oversight through three 'Äúparlays'ÄĚ per year, where the assembly tells Governor Kayode Fayemi (an opposition governor) their findings. This dependence on the center actually shows great variation, as discussed by Dr. Funmbi Elemo in her excellent chapter in my book in progress, co-edited with Dr. Joseph Fashagba.
Under Nigeria'Äôs elaborate revenue allocation system, states are statutorily entitled to a share of federal funds determined by a formula and administered by the Federal Revenue Allocation Commission. The point of the Commission is to depoliticize the distribution of oil revenues that accrue to the center. But the ruling PDP argues that states'Äô entitlement is not absolute. The National Assembly'Äôs Hon. Austin Opara told me, 'ÄúWhere there is crisis, the revenues are kept in escrow account.'ÄĚ Withholding the funds has had not only the obvious political effect of infuriating opposition governors, it is also leading Governor Amaechi and others to borrow money from commercial banks, thus creating new debts during a time of national surplus which could soon cloud the rosy picture of the economy being painted by the Minister of Finance. After oil prices dropped in 1980, governors in Nigeria'Äôs Second Republic also took out large loans (See The Rise and Fall of Nigeria's Second Republic, 1979-84, by Toyin Falola and Julius Omozuanvbo Ihonvbere'Äôs.)
The characterization by Hon. Opara (and other PDP politicians I spoke with) of political instability in Rivers also demonstrates how the ruling party believes it possesses significant discretionary authority since the laws governing revenue allocation do not permit the establishment of such escrow accounts, which can be used as a lever in opposition-controlled states. If such withholding is not politically motivated, then in my ongoing research I expect to identify evidence that PDP strongholds face similar budget constraints. And how will the budgets in other opposition states fare? The formal states of emergency in Borno, Yobe, Adamawa expires soon, but it will almost certainly be re-extended.
Debating the Laws of Decampment
There is a long tradition, going back to the First Republic, of party leaders accusing elected politicians of 'Äúanti-party activities.'ÄĚ This was common during Obasanjo'Äôs first term as well. The emergence of the All Progressive Congress (APC), however, for now presents a viable alternative for members whose ambitions are frustrated by the national PDP'Äôs efforts to control candidate selection. Moreover, the mass defections raise doubts about the efficacy of suspensions as tools for promoting party loyalty, according to senior APC politicians. A decline in disciplinary effectiveness could deepen desperation in the PDP.
Rivers State has emerged as a symbol for these issues. The tipping point was last year when the PDP replaced the governor'Äôs close ally in the state party leadership, Ake, with a loyalist of current Minister of Education, Nyesom Wike. Not long after, the governor and the Rivers House of Assembly attempted to remove the Local Government Area chair and council members in Obio-Akpor. Since this is Wike'Äôs home LGA, it became a much larger symbol of the contest between PDP and APC. But it is also of interest because it suggests first, how the three tiers of federalism multiply the possible interactions between local and national political structures. The Rivers governor is withholding funds for the LGA 'Äď much like the PDP is withholding funds for Rivers State.
Second, this is also of interest because of the role the courts have played. Election observers have routinely looked to the courts as a saving grace in Nigeria's elections, by serving as a conflict resolution mechanism in disputes over who won particular elections, Buhari's decision to take his protest to the judiciary rather than the streets in 2011 being the most prominent example out of hundreds of cases. In River State, the courts have upheld the chairmanship of Prince Timothy Nsirim in Obio-Akpor (click here to read the court judgement), but the APC in Rivers says they are appealing the decision which you can download here, and therefore do not recognize him. In other words, control over the Rivers State Assembly and this key LGA remains contested, with two sides in each instance claiming legitimate leadership. Rather than resolving the issue decisively, the courts are stuck in an argument that will draw out for months or even years.
Similarly, a court in Abuja ruled that the 'ÄúNew PDP'ÄĚ is not a faction. If it stands could effectively nullify the constitutional basis for forming the APC. Naturally, the APC is appealing. The key point is that the courts are likely to be much more involved in internal party politics than in previous elections, subjecting them to increased political pressure, and signaling that the Electoral Act for the 2015 elections will need to take careful preventative steps to promote both judicial neutrality and efficiency. The bill'Äôs language on independent candidates will be critical not only because facilitating independent candidates could split opposition supporters and play into the hands of the PDP, but because it could increase politicians'Äô autonomy by allowing them to circumvent requirements for party factions.

April 21, 2014 ·

Dr. Carl ·

2 Comments


Posted in: .
On February 26, four distinguished lawyers debated this and other questions at a forum at American University, co-organized with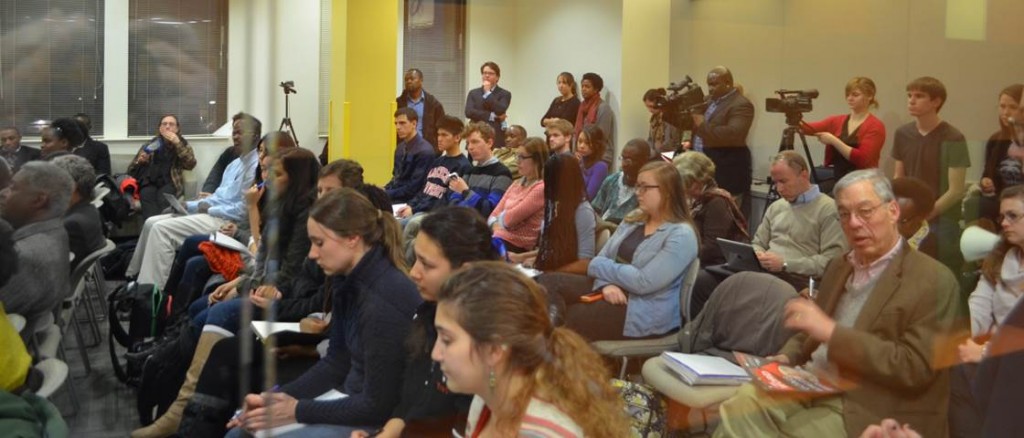 the American Bar Association Center for Human Rights, the student-run Africa Initiative on campus, and a new diaspora organization, East Africa WashingtonProgram.  The event drew attention from Africa, Europe, and in the Kenyan media.  You can watch a brief clip from the NTV Kenya television coverage here. Participants included:
Michael S. Greco, former president, American Bar Association
Regina Njogu, a Washington College of Law alum who offered a vigorous critique of the ICC, and filled in the spot on the panel left vacant by the Hon. Koki Muli, Kenya's Deputy Ambassador to the United Nations
Stephen Arthur Lamony, Senior Adviser on AU, UN and Africa Situations Coalition for the International Criminal Court
Prof. David Bosco, a professor in AU's School of International Service, and author of Rough Justice: The International Criminal Court in a World of Power Politics, recently published by Oxford University Press
You can watch the entire event on the web page for American University's Council for African Studies.  You can also download the entire video on Vimeo.

February 28, 2014 ·

Dr. Carl ·

One Comment


Posted in: .
A cornerstone of President Obama'Äôs policy towards Africa is a new initiative to expand access to electricity, dubbed "Power Africa". A great deal of economic research (and common sense) suggests that unreliable power is a major barrier to economic growth and long term development.¬†However a letter signed by 75 African groups across 18 African countries has raised concerns about Power Africa, as well as the Electrify Africa Act and the Overseas Private Investment Corporation. Ever since the 1990s,
OPIC has been targeted by budget hawks as 'Äúcorporate welfare'ÄĚ since it helps underwrite financial risks associated with private investment in the developing world.
The signatories to the letter wrote, "We do not need to poison communities in Africa in order to develop sustainably. Consequently, we reject any further extraction of and exploitation of fossil fuels, including natural gas, oil, coal and unconventional fossil fuels" as part of the Power Africa initiative. This letter is particularly relevant to attempts by some to weaken OPIC's carbon cap. Indeed the groups wrote, 'ÄúOPIC's cap on greenhouse gas emissions must not be tampered with, most certainly not in the false name of supplying power to Africa's poor.'ÄĚ Instead, the African NGOs urged support for "small-scale, decentralized, community-owned renewable energy initiatives throughout the African countryside and cities."
The letter is again getting wide circulation in Washington as Power Africa and the enabling legislation winds its way through Congress, including today's markup by the House Committee on Foreign Affairs.
10 November 2013
Subject: Leave the oil in the soil; leave the coal in the hole
Dear President Obama,
We are African organizations working for the realization of a healthy and just environment for the people of our countries. We believe that every person has the right to a dignified life of quality on a livable planet. The climate crisis — brought on by developed countries — poses a monumental threat to this basic human right.
It is with this in mind that we write to you concerning the Power Africa initiative, as well as congressional legislation apparently meant to operationalize your initiative, including the Electrify Africa Act of 2013. Like you, we feel a great sense of urgency to address the pervasive energy poverty found in most African countries. It is shameful that in 2013, more than two-thirds of sub-Saharan Africa's population lacks electricity, with that number growing to more than 85 per cent in rural areas.
We are therefore working hard to bring decentralized, truly clean, community-controlled renewable energy to all of our people. We do not need to poison communities in Africa in order to develop sustainably. Consequently, we reject any further extraction and exploitation of fossil fuels, including natural gas, oil, coal, and unconventional fossil fuels.
These dirty fuel projects cause devastating impacts on local health, communities, and the environment. We similarly reject large hydropower projects, and other 'Äėfalse solutions'Äô such as carbon trading and offsetting. Smaller scale solar, wind, and geothermal, and mini-hydro, can provide us with sustainable lives and livelihoods without sinking our health along with that of the continent and the planet.
When we read statements from the White House about 'Äúnew discoveries of vast reserves of oil and gas'ÄĚ, and that 'ÄúThe recent discoveries of oil and gas in sub-Saharan Africa will play a critical role in defining the region's prospects for economic growth and stability, as well as contributing to broader near-term global energy security'ÄĚ1 – our response is to say,
'ÄúLeave the oil in the soil; leave the coal in the hole.'ÄĚ
 It is simply impossible to continue to exploit fossil fuels if we want to avoid climate catastrophe. And we want to avoid climate catastrophe. So do you.
Climate change is already having a heightened impact in Africa, with increasing temperatures, more floods and droughts, and failing agriculture, which is increasing conflict and threatening the lives and livelihoods of many millions.
Furthermore, we know from many decades of direct experience that the World Bank-driven development model pushing large-scale infrastructure and power projects rarely, if ever, alleviates poverty. Instead, such projects exacerbate inequality and conflict, devastate the environment, and frequently involve human rights violations (i.e. the well-documented 'Äúresource curse'ÄĚ). These projects do not help us at home but rather are for export and to line the pockets of multinational corporations and local elites.
But even more troubling is how African poverty has historically been used to line the pockets of U.S. corporations and 'Äúexperts'ÄĚ. Much of the money given as "aid" to African and other countries actually returns right back to the 'Äúexperts'ÄĚ and consultants of donor countries 2. It thus troubles us tremendously that Power Africa has been advertised to U.S. audiences as an initiative to benefit U.S. corporations. For example, upon Power Africa's launch, Forbes 3 wrote that it 'Äúgreases billions in deals for General Electric'ÄĚ, saying the firm is 'Äúperhaps the biggest beneficiary'ÄĚ of the initiative, noting the U.S. Export-Import Bank's4 central role in financing its ambitions in the region. Indeed, the chair of the Export-Import Bank was quite frank about this over Twitter, referring to Power Africa as a "$7B plan to power up @General Electric", and he posted a picture of President Obama's speech on the initiative in Tanzania with a GE logo more than twice the size of the presidential seal.
We therefore urge you to re-think any support for large scale power and infrastructure projects in the name of increasing energy access for Africa. We know that this hasn't worked in the past, and it won't work now. What will work are small-scale, decentralized, community-owned renewable energy initiatives throughout the African countryside and cities.
Even the International Energy Agency has said as much. Its 2010 World Energy Outlook found that for universal energy access to occur by 2030, 70 per cent of rural populations will need to be served by decentralized renewable energy, and that electrification strategies should focus heavily on decentralized renewable energy systems, such as small-scale, democratically controlled wind, solar and microhydro co-operatives which meet local needs and end peoples' reliance on the corporate-controlled energy system. Advances in distributed renewable energy in recent years have made this technology more cost effective than outmoded grid extension from centralized fossil fuel projects; much like cheaper mobile phone technology has made extension of phone lines obsolete. When the externalized cost of fossil fuel projects is factored in — including the cost of harmful health impacts, loss of land, environmental and agricultural damage, and conflicts 'Äď distributed renewable energy solutions become even more cost effective than fossil fuel projects.
Unfortunately, to our dismay, we have learned that fossil fuel companies, the ONE Campaign, and even some in the Obama administration are using Power Africa and the Electrify Africa Act to try to weaken crucial gains in U.S. development financing at the Overseas Private Investment Corporation (OPIC). OPIC'Äôs landmark climate and development policy, which is already having a positive effect in directing the agency's portfolio toward renewable energy, requires the agency to reduce its fossil fuel financing and increase its renewable energy financing, bringing cleaner energy access to the poor.
OPIC'Äôs cap on greenhouse gas emissions must not be tampered with, most certainly not in the false name of supplying power to Africa's poor.
Weakening this policy will mean more polluting energy for Africa. What's more, it may result in increased numbers of large centralized fossil fuel power projects that serve industrial customers but do not increase energy access for the poor, particularly in rural areas.
We thank you for your attention to these most important matters as we all move boldly toward sustainable livelihoods in the face of the climate crisis.
1 The White House Fact Sheet: Power Africa, 30 June, 2013,
http://www.whitehouse.gov/the-press-office/2013/06/30/fact-sheet-power-africa.
2 Timothy Mitchell. Rule of Experts: Egypt, Techno-Politics, Modernity,
University of California press, 2002
3 See http://www.forbes.com/sites/christopherhelman/2013/07/01/with-power-africa-plan-obama-to-grease-billions-in-deals-for-g-e/.
4 We note that the U.S. Export-Import Bank has gained notoriety for its skyrocketing financing of fossil fuels, including the 4800 MW Kusile power project in South Africa, which is exacerbating energy poverty and causing tremendous local and climate pollution. Indeed, we vociferously protested the Export-Import Bank's financing of Kusile.
Sincerely,
Abibiman Foundation, Ghana
ADEID, Cameroun
African Alliance for Rangeland Management and Development, Kenya
African Biodiversity Network, Kenya
African Biosafety Centre, South Africa
African Research Association managing Development in Nigeria
AME, Cameroun
Association Nigérienne des Scouts de l'Environnement, Niger
ATTAC Burkina, Burkina Faso
Caravane D'Animation Culturelle Pour Le Development Durably, DRC
Center for Secured Health and Environmental Development Initiatives, Nigeria
Centre for 21st Century Issues, Nigeria
Centre for Civil Society, South Africa
CIKOD, Ghana
Climate Change Network Nigeria
Committee on Vital Environmental Resources, Nigeria
Daughters of Mumbi Global Resource Center, Kenya
Direction Générle des Forêts et des Ressources Naturelles, Bénin
Earth Peoples, Africa
Earthlife Africa Durban, South Africa
Earthlife Africa Jhb, South Africa
Environmental Rights Action/Friends of the Earth Nigeria
Friends of Lake Turkana, Kenya
Friends of the Earth Africa
Friends of the Earth Ghana
Greater Middelburg Resident's Association, South Africa
Greenpeace Africa
groundWork, Friends of the Earth, South Africa
Growing Power NPC, South Africa
Health of Mother Earth, Nigeria
Host Community Network Gwagwalada-Abuja, Nigeria
Host Community Network Federal Capital Territory, Nigeria
Host Community Network Chika-Lugbe, Nigeria
Host community Network Karimo, Nigeria
Host Community Network Mape, Nigeria
Institute for Sustainable Development, Ethiopia
Irrigation Training and Economic Empowerment Organization – IRTECO, Tanzania
Jamaa Resource Initiatives, Kenya
Jeunes volontaires pour l'Environnement de la RDC (JVE-RDC), DRC
JFE, Cameeroon
Johannesburg Anglican Environmental Initiative, South Africa
Justiça Ambiental/ Friends of the Earth Mozambique
Kenya Debt Relief Network – KENDREN, Kenya
Labour, Health and Human Rights Development Centre, Nigeria
Les Amis de la Terre-Togo
Maendeleo Endelevu Action Program, Kenya
National Association of Professional Environmentalists, Uganda
Never Ending Food, Malawi
Newcastle Environmental Justice Alliance, South Africa
Next Generation Youth Initiative International (NEGYII), Nigeria
NGO Coalition for Environment (NGOCE), Calabar, Nigeria
Nigerian Conservation Foundation, Nigeria
No REDD in Africa Network
Ogoni Solidarity Forum, Nigeria
Organisation de Bienfaisance et de Dévellopement, Djibouti
Project 90 by 2030, South Africa
Rainforest Resource and Development Centre (RRDC), Nigeria
RAINS, Ghana
SAFCEI, South Africa
South Durban Community Environmental Alliance, South Africa
Southern Cape Land Committee, South Africa
TCOE, South Africa
The Rules, Africa
The Young Environment Network, Nigeria
Unemployed People's Movement, South Africa
Uniao Nacional de Camponeses (National Farmer Union of Mozambique), Mozambique
University of Kwazulu Natal, South Africa
Wise Administration of Terrestrial Environment and Resources (WATER), Nigeria
Women Environmental Programme Burkina, Burkina Faso
World Neighbours, Africa
Worldview -The Gambia
Young Volunteers for Environment, Ethiopia
Youth Volounteers for the Environment, Zambia
YVE Ghana
350.org Durban, South Africa

February 27, 2014 ·

Dr. Carl ·

One Comment


Posted in: .
Nigeria's president Goodluck Jonathan fired the Central Bank governor, Lamido Sanusi, last week.  The move was immediately condemned by the opposition and alarmed the business community, prompting the naira to drop in value (briefly as low as 170 = 1 USD) and the stock market to fall.
One senior oil executive I spoke with said the incident was not entirely a surprise, as tensions between Sanusi and Jonathan have been escalating for months. Nigeria's top banker testified before a legislative oversight committee in January that the Nigerian National Petroleum Company (NNPC) had failed to remit about $20 billion in oil proceeds to the country's Federation Account. The implication that the money disappeared was not lost on anti-corruption activists, such as the Socio-economic Rights and Accountability Project and the Zero Corruption Coalition (a partner of Transparency International). Though Sanusi was named Forbes Magazine's "African Person of the Year" in 2011, and "Person of the Year" in 2010 by Banker Magazine, his reforms requiring new auditing procedures in banks and limits on CEO tenure had turned some in the Nigerian banking sector against him.
In a long list of charges detailed in Leadership and other media, the president accuses Sanusi of violating Nigeria's recent Procurement Act and wasteful spending. I was interviewed by Al Jazeera English a few days ago on the subject (see right).
Since the Central Bank Act of 2007 does not give the president the authority to fire the Central Bank governor without a two-thirds vote of the Senate, the executive claims that Sanusi has technically been suspended, not dismissed. However Jonathan has already forwarded a replacement, Godwin Emefiele of Zenith Bank, to the Senate for confirmation. Can Senate President David Mark consider a replacement for an office that is not vacant? Stand by for a lively debate in Senate, and a fight from Sanusi in the courts (though he has also said he is fighting on principle, and does not plan to return to office). A slew of recent defections from the ruling People's Democratic Party (PDP) to a new opposition party will make the Assembly's role all the more uncertain.
The last four Central Bank governors hailed from the north (see "Six Under Consideration to Replace Sanusi," This Day 29 October 2013), so the nomination of Emefiele, from southeastern Akwa Ibom State, may also suggest that Jonathan wants to rotate the position. ¬† Moreover, Sanusi's term was about to expire in June anyway, and Jonathan is going into a heated presidential election next year when many in the PDP believe that Jonathan himself should step down to "shift power" back to the north. So the question is, why now?¬†With northerners seeking reassurance, this might not be the most opportune moment to appoint an easterner. And even if Jonathan prevails on the legal technicalities (the Senate's chief information officer seems to agree with his interpretation of suspension), and he is able to offer persuasive evidence of the charges against Sanusi, the independence of the Central bank is now in doubt — and the procedures for investigating corruption seem cloudy again.

February 23, 2014 ·

Dr. Carl ·

One Comment


Posted in: .
In a paper I co-authored with Todd Eisenstadt and Tofigh Maboudi, we answer the above question using a new data set covering all 132 new constitutions in 118 countries between 1974 and 2011.
After noting a larger empirical disjuncture between new constitutions and democratization since the 1970s, we ask: under what circumstances do new constitutions lock in democratic gains? We disaggregate the constitution-making process into three phases: drafting, debating, and ratifying. Statistical tests find that overall increased participation positively impacts levels of post-promulgation democracy. However, the results also offer compelling evidence that the degree of citizen participation specifically in the first stage (drafting) has an especially robust impact on the resulting regime. This is important in light of the centrality of referenda and the last stage of constitution-making (ratification) during the Third Wave.
Click here to download our paper on "Participatory constitution-making and democracy," recently presented at the American University comparative politics seminar.  Comments are welcome!

February 10, 2014 ·

Dr. Carl ·

No Comments


Posted in: .