This is the full text of a press release sent to me from a journalist in Nigeria today. It raises more questions than it answers.
PRESS RELEASE
In the early hours of today 20th September, 2013, about 0030 hours a combined security team went for an operation behind the Apo legislative quarters. The operation was sequel to information obtained from two (2) Boko Haram elements Kamal ABDULLAHI and Mohammed ADAMU, who had earlier been arrested for terrorist activities. They led the security team to uncompleted buildings where arms were purported to have been buried underground.
2. No sooner had the team commenced digging for the arms, than they came under heavy gunfire attack by other Boko Haram elements within the area, which prompted immediate response from the security team. As a result, some persons were injured and twelve (12) others have been arrested in connection with the incident, and are making useful statements.
3. Normalcy has returned to the area. Members of the public are advised to go about their normal businesses, as appropriate security measures have been emplaced to ensure the safety of citizens in the FCT. We want to reiterate the need for all Nigerians to be vigilant of their immediate environment and promptly report suspicious activities to security agencies. Our National security must remain the collective responsibility of all Nigerians.
Marilyn OGAR, msi Deputy Director, Public Relations Department of State Services 20th September, 2013

September 20, 2013 ·

Dr. Carl ·

One Comment


Posted in: .
During my recent trip to The Gambia, I noticed how difficult it is to drive down any of Banjul's main roads without seeing a billboard praising President Yahya Jammah.  Voting for him is a "sacred duty" proclaims one.  Others portray him praying, with the headline "from darkness to light" or explain that women all support him.  Now one of Africa's longest serving dictators will be bringing his public relations campaign to Washington, where according to documents filed with the U.S. Department of Justice, he just hired a public relations firm to help polish his image.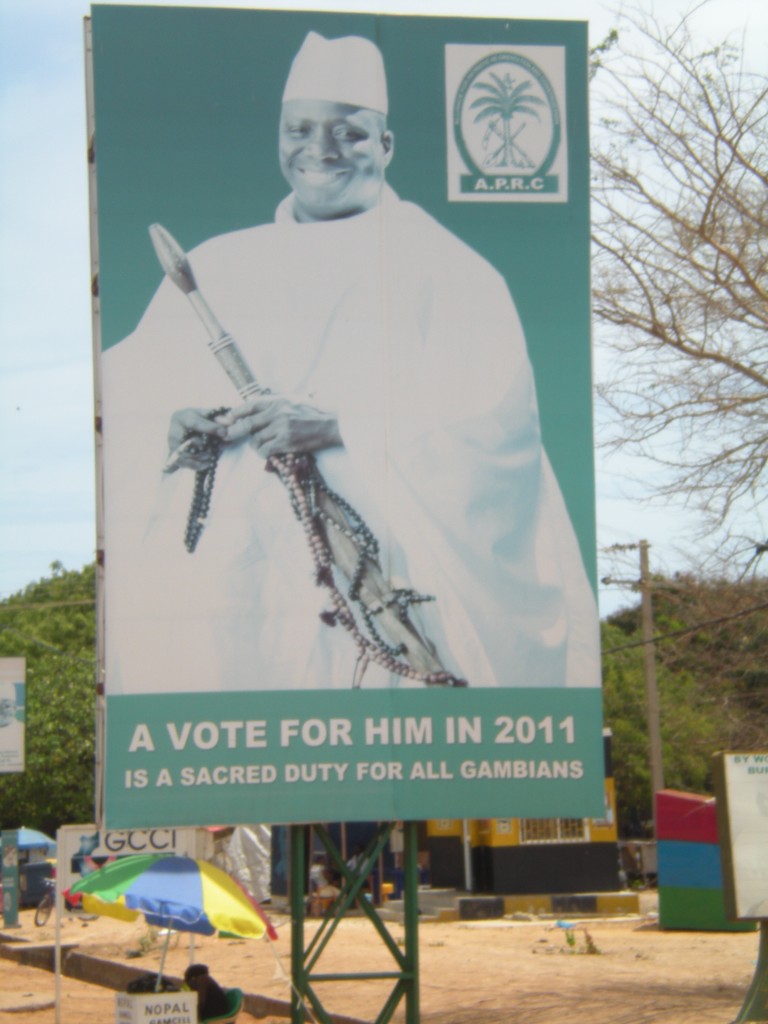 The firm, BGR, might want to re-think this $45,000 a month contract since Jammah's previous lobbyist went to court to try to recover unpaid fees, according to October 16, 2006 story in Congressional Quarterly ("Lawsuit Points Up Perils of Strong Man Lobbying").  The Gambia in turn argued that the agreement did not lead to an increase in aid (and the firm lost to the government on some counts).  Politico reports that the new BGR contract is to lobby for additional foreign aid for The Gambia.
Moreover, the previous firm also faced protest from exiles of the regime, who are already gearing up for a campaign.  Jammah took power in a 1994 military coup d'etat and has held carefully staged elections since then.
Journalists, activists, and politicians (including some who have worked with the regime) all told me that political space remains tightly controlled.  The government aims to dominate discussion of even the more innocuous issues.  In one recent example, civil society groups organized a seminar about prison conditions, in order to explore how to reduce congestion, enhance procedural access to justice, and other issues.  The Jammah government responded by banning the media from attending.  (See the article in African Human Rights Law Journal last year, which outlined a variety of similar problems.)
Gambians are bracing for more such incidents following passage of the "Criminal Code (Amendment) Act, 2013" also known as "The Principal Act," which the National Assembly passed unanimously April 16.  The new law contains two important provisions which have already begun undermining freedom of expression, peaceful assembly, and association in the Gambia.  Section 114 expands existing criminal law which governs the provision of "false information" to civil servants.  Section 167 allows imprisonment and fines for "public disorder" offenses, including singing songs perceived as "abusive," among other things.  For further details, see the Amnesty International press release dated May 7.
Suspending US military training — bad news for AFRICOM?
According to news reports in Gambian newspapers, President Jammah also recently ordered the Gambian military to not participate in any training or assistance from the United States.  AFRICOM's critics should not necessarily chalk this up as an embarrassment to the Pentagon's military command for Africa.  Some Gambian exiles believe that Jammah suspended cooperation because he fears that he could be next in the American crackdown on the drug trade in West Africa, following recent large drug busts there.  The State Department does not exactly describe The Gambia as a narco-state, and it generally lists the Gambia as an important partner in interdiction efforts.  But its 2013 International Narcotics Control Strategy Report did state that "recent seizures of large amounts of cocaine and marijuana have heightened concerns of drug-related money laundering."
AFRICOM is however facing big troubles in Washington.  Budget cuts have potentially put it on the chopping block, just five years after it was launched with much fanfare.  According to a report last week in Defense News, AFRICOM could be re-absorbed into the other regional commands.
For an excellent introduction to Gambian politics and history, see State and Society in the Gambia since Independence, 1965-2012, edited by Saine, Ceesay, and Sall.

August 19, 2013 ·

Dr. Carl ·

2 Comments


Posted in: .
Last month, 80 African studies scholars based in the U.S. joined me in writing to Secretary of State John Kerry, asking him to defend and uphold the Leahy Amendment.  United by concern that a vital human rights law was being undermined by top Pentagon officials, who publicly complained that it presented an inconvenience to counter-terrorism programs in some countries, we urged America's top diplomat to "resist any efforts to weaken the Leahy Amendment and, rather, to ensure that rule of law and accountability for human rights abuses remain core principles guiding U.S. policy toward Africa."  Click here to read a copy of our letter and see the list of signatories, which continues to grow.
Secretary Kerry has responded with a letter dated August 12, thanking the scholars: "Support for the rule of law and accountability are cornerstones of U.S. policy toward Africa, and the Leahy laws will continue to be essential tools for advancing them."  He brought much the same message to a congressional appropriations hearing earlier this summer.  Apparently, tepid implementation of Leahy runs deeper than merely some corners of the Pentagon, with the State Department's regional bureaus sometimes holding back information on human rights violations, and occasional disputes between embassies and Foggy Bottom.  So a new message from the top, reaffirming Leahy, will generate some ripples.
Click here to download a copy of the letter from Secretary Kerry, which emphasizes that Leahy is more than merely a putative tool for denying aid to security units that violate human rights.  It is also a tool for holding human rights violators accountable and strengthening the rule of law.
I also want to thank the Association of Concerned Africa Scholars for helping to publicize the letter.
"Support for the rule of law and accountability are cornerstones of U.S. policy toward Africa, and the Leahy laws will continue to be essential tools for advancing them."

Kerry's words to the African studies professors

August 18, 2013 ·

Dr. Carl ·

No Comments


Posted in: .
The AFL-CIO and Solidarity Center just released a report about the upcoming Zimbabwean parliamentary and presidential elections.  It details the importance of the Zimbabwe Congress of Trade Unions (ZCTU) in taking on the country's political establishment and creating political space and advancing workers' policy interests.  As my colleague Adrienne LeBas argues in her groundbreaking book, From Protest to Parties: Party-building and Democratization in Africa (just released in paperback this month) the labor movement has both protected civil society space and advanced political reform in Zimbabwe.  The Solidarity Center report describes how unions have given voice to workers in the the large informal economy, and the ZCTU and its affiliates have provided critical support for civic education and get-out-the-vote initiatives for the election in particular.
Download a copy of the report, "On the Front Lines of Change" here.

July 30, 2013 ·

Dr. Carl ·

No Comments


Posted in: .
Dateline Dakar – While Obama is in Africa, is the US Military Trying to Roll Back U.S. Human Rights Law?
Obama's "nio far" comment (meaning "we are together" in Wolof) here in Dakar will likely resonate through history, similar to President Kennedy telling Germans he was an East Berliner.  Senegal is hardly a divided cold war Berlin. But it is surrounded by countries swimming against the tide of Africa's political liberalization over the last two decades.  So the administration's plans for a massive influx of foreign aid hopes to fashion Senegal into a beacon of democratization amidst Islamic moderation has obvious appeal to Obama's new national security team.  Senegal represents a counter-narrative to economic Afro-pessimism, and from the Pentagon's perspective it promises a wedge against radical Islamic influences from its neighbors, Mauritania and Mali.  Call it the "Almadies Alternative," referring to the westernmost geographical point in Africa.  Whether the appropriate metaphor for this peninsula is an outstretched hand of friendship, or a finger scolding DC, will depend in part on the priority given human rights in this new national security narrative.
Back home in Washington, the New York Times last week brought to light comments by Obama's generals openly prodding the administration to recalibrate American priorities by arguing that the Leahy Amendment unnecessarily complicates counter-terrorism training.  This law prohibits the provision of State Department foreign aid, or Department of Defense military training, to military units or individuals who have committed gross human rights violations.  Determining whether such violations have occurred, and who is eligible for training, places a
substantial burden on under-resourced American diplomats who do the vetting.  To read more about how this process works, click here to read a fact sheet from the U.S. Department of State that describes the vetting process.
An unclassified PowerPoint presentation provides additional details about what constitutes a "unit," what the State Department considers "credible information," and how it defines a "gross human rights violation."  It also makes clear that the Department of Defense applies a lower standard for a waiver compared to the diplomats across the river in DC.  And – surprisingly – the DOD is not required to report to Congress when it does so.  You can download the presentation here.
To address these concerns, the following US-based scholars have signed a letter to the State Department, asking Secretary Kerry to defend the Leahy Amendment.  This page will be updated periodically until the final letter is sent to Kerry.  (Signatories have not endorsed the above comments.)
Letter to Secretary Kerry: Defend Leahy Amendment, Advance African Rule of Law
July 5, 2013
Hon. John Kerry
Secretary of State
U.S. Department of State
2201 C Street NW
Washington, DC 20520
Dear Mr. Secretary,
As scholars from U.S. – based institutions with expertise on Africa, we are pleased with the Administration's renewed interest in the continent's many growing economies and rising democracies.  As with his previous trip, President Obama chose to visit countries that are making meaningful strides towards democratic consolidation.  Of course, to reach this point, Africans walked a long road to freedom.  Where democracy on the continent is most vibrant today, procedural elements such as free and fair elections are accompanied by other features, including strict civilian control of security services and accountability for human rights abuses.  After a robust inter-agency debate, the 2012 White House National Security Strategy toward Sub-Saharan Africa embraced these principles. The US pledged to "expand efforts to support and empower key reformers and institutions of government at all levels to promote the rule of law," and to "amplify and support voices" calling for rule of law and accountability.
We are writing to express our profound concern that efforts under way in the United States to weaken the vetting process for U.S. foreign aid and military training will have the opposite effect. Doing so would contradict U.S. foreign policy goals and roll back rule of law in Africa by abetting – or even training – known human rights abusers.
The "Leahy Amendment" now prohibits State Department aid, or military training from the Department of Defense (DOD), to units known to have engaged in human rights abuses.  This is codified in Section 620M of the Foreign Assistance Act (FAA) of 1961, which states: "No assistance shall be furnished … to any unit of the security forces of a foreign country if the Secretary of State has credible information that such unit has committed a gross violation of human rights."A provision in the annual DOD Appropriations Act states: "(a) None of the funds made available by this Act may be used to support any training program involving a unit of the security forces of a foreign country if the Secretary of Defense has received credible information from the Department of State that the unit has committed a gross violation of human rights."  These laws attest to an American commitment to enhance democracy by ending impunity and promoting accountability.
As you know, the Leahy Amendment only applies to the most serious human rights offenses, such as extra-judicial executions, torture, disappearances and rape.  The allegations must be credible and substantiated through a rigorous vetting process that involves the U.S. Embassy in the host nation and the Bureau of Democracy, Human Rights, and Labor and (for countries in Africa) the Bureau of African Affairs in Washington.  For allegations requiring extra scrutiny, the State Department consults with civil society groups – thereby offering a model for a healthy democratic debate about foreign policy.
Suspension of aid through Leahy is a powerful incentive for governments to hold abusers accountable – and some countries have done just that in order to get American aid reinstated. The DOD Appropriations Act permits restoration of training if "all necessary corrective steps have been taken."  The FAA sets a higher standard, requiring a determination by the Secretary of State to Congress that "the government of such country is taking effective steps to bring responsible members to justice."
There is good evidence that the Leahy Amendment has worked.  Your predecessor, Secretary Hillary Rodham Clinton, noted that without the Leahy Amendment U.S. taxpayers would have armed or trained 1,766 individuals or units that the State Department determined had probably committed serious human rights crimes in 2011 alone.  In 2012, the State Department Inspector General reported that 211 Nigerian soldiers (out of a potential 1,377 participants) were excluded from a training due to credible concerns about their respective roles in human rights abuses.  According to a recent article in The New York Times, a Nigerian military unit in Mali has also been excluded from training. For those who would say this presents an undue burden on counter-terrorism (as the top official from the Special Operations Command implied in recent comments), we note that the abusive unit is being replaced by another one with a clean record.
In 2008, Nigeria's president said that he wanted to be remembered for "restoring respect for the rule of law."  Such African dreams of democracy will be difficult to realize if American security programs allow loopholes and waivers on the road to reform.  U.S. military assistance programs to Africa have expanded, and they need to be held to the same high standard as other aspects of foreign aid.  The era of financial austerity warrants it, and the hard lessons learned from some of America's alliances in Africa during the Cold War demand it.
We understand the need to be pragmatic, and we appreciate the complexities of contemporary security contexts in Africa and beyond.  But we urge you to resist any efforts to weaken the Leahy Amendment and, rather, to ensure that rule of law and accountability for human rights abuses remain core principles guiding U.S. policy toward Africa.
Thank you for taking our views into consideration.  Our affiliations are listed for identification purposes only and do not constitute an institutional endorsement.
Sincerely, (last updated on July 5)

A. Carl LeVan, American University
Jennie  Burnet, University of Louisville
Dave Wiley, Michigan State University, Association of Concerned Africa Scholars
Deborah Brautigam, Johns Hopkins University
Steve Orvis, Hamilton College
Catherine Bolton, University of Notre Dame
Meredith Turshen, Rutgers University
Nelson Kasfir, Dartmouth College
Alice Kang, University of Nebraska-Lincoln
David  Newbury, Smith College
Martha C. Johnson, Mills College
Catherine Newbury, Smith College
Staffan Lindberg, University of Florida
Marc Sommers, Boston University
William Minter, AfricaFocus Bulletin
Elias Kifon Bongmba, Rice University
Martha C. Larson, Independent Analyst, San Francisco
Raymond F. Hopkins, Swarthmore College
Brian A. Guy, University of Oregon
Alex de Waal, World Peace Foundation, Fletcher School
Neil O. Leighton, University of Michigan – Flint
Lorna Lueker Zukas, National University
Mary D. Herr, Elizabethtown College Alumni Peace Fellowship
Richard Lapchick, University of Central Florida
James Simon, Center for Research Libraries, Chicago
David A. Pigott, Brigham Young University – Idaho
Robert Press, University of Southern Mississippi
Merle L. Bowen, University of Illinois – Champaign
Ken Harrow, Michigan State University
Susan Thomson, Colgate University
Peter Alegi, Michigan State University
Elizabet Schmidt, Loyola University – Maryland
Susan   Waltz, University of Michigan
David  Dwyer, Michigan State University
Susanna Wing, Haverford College
Adotei Akwei, Amnesty International
Walter Turner, College of Marin
Teresa Barnes, University of Illinois – Urbana
Richard Waller, Bucknell University
Edward A. Alpers, University of California – Los Angeles
Charles L. Riley, Yale University Library
Bruce Magnusson, Whitman College
David Vine, American University
Gretchen Bauer, University of Delaware
Mechthild Nagel, SUNY – Cortland
Michael Bratton, Michigan State University
Jericho Burg, University of California, San Diego
Aili Mari Tripp, University of Wisconsin-Madison
Clarence Lusane, American University
Jarmaine Abiodogun, Missouri State University
Sarah E. Hager, American University SPeX
Noah Zerbe, Humboldt State University
Leslie Hadfield, Brigham Young University
Teju Olaniyan, University of Wisconsin-Madison
Tony Avirgan, Independent Scholar
Martha Honey, Independent Scholar
Vivian N. Anugo, American University
Brook K. Baker, Northeastern University Law School
Christopher M. Annear, Hobart & William Smith Colleges
R. Joseph Parrott, University of Texas at Austin
Ann Seidman, Boston University
Sarah E. Watkins, University of California, Santa Barbara
Jeanne Koopman, Boston University
Thomas A. Smucker, Ohio University
Sandra Barnes, University of Pennsylvania
Edwin S. Segal, University of Louisville
James Mittleman, American University
John Metzler, Michigan State University
Nurudeen B. Akinyemi, Kennesaw State University
Jeanne Penvenne, Tufts University
Roshen Hendrickson, College of Staten Island (CUNY)
Robert Mortimer, Haverford College
Almaz Zewde, Howard University
Robert Mazur, Iowa State University
John Harbeson, Johns Hopkins University – SAIS
Sarah S. Milburn, Rutgers University
Thomas Turner, Virginia Commonwealth University
Olufemi Vaughan, Bowdoin College
Omofolabo Ajayi-Soyinka, University of Kansas
Pauline E. Peters, Harvard University
cc: Â Â Â Â Â Â  Susan Rice, National Security Adviser
Hon. Chuck Hagel, Secretary of Defense
Senator Patrick Leahy
If you are affiliated with a US-based academic institution and would like add your name to this letter, email levan@american.edu with your name and institutional affiliation by July 5, 2013.

June 30, 2013 ·

Dr. Carl ·

8 Comments


Posted in: .