As the Trump administration nears its end, U.S. foreign policy must prepare to reset and revitalize relations with Nigeria. Americans have an opportunity to repair the harm done by leadership that drew upon crude, racialized stereotypes of Africans and that coddled dictators. In the context of a reckoning with police violence against American minority communities, and a movement in Nigeria challenging serious and widespread abuses, it is urgent for the United States to recommit to global democracy and human rights. Yesterday, Chiedo Nwankwor, Patrick Ukata and I joined other African studies professors in a letter to the incoming Biden/Harris administration urging specific policy actions in response to the #EndSARS movement in Nigeria. Our goals closely align with those in an open letter to the international community recently published by NGOs and faith-based organizations, and are crafted to stand in solidarity with core demands of Nigerian protestors.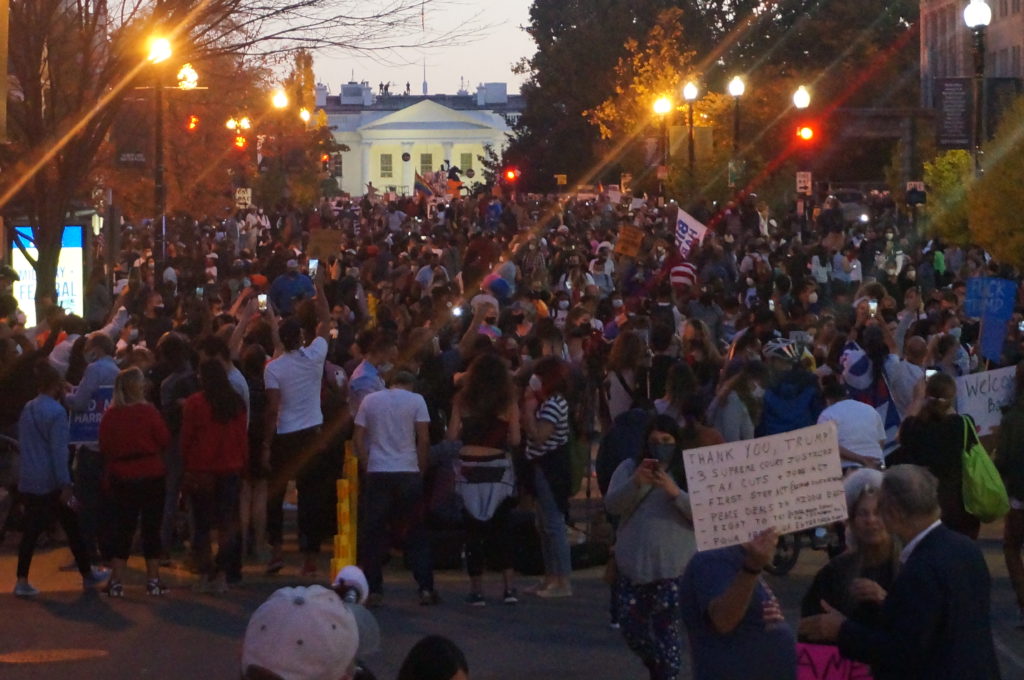 November 13, 2020
Biden-Harris Transition Team
Ted Kaufman
Anita Dunn, co-chair
Representative Cedric Richmond, co-chair
Governor Michelle Lujan Grisham, co-chair
Jeffrey Zients, co-chair

Dear Members of the Biden-Harris Transition Team:

We are writing to condemn the violent crackdown on non-violent protests in Nigeria, and in support of US assistance for police reform and accountability. As longtime scholars of Nigeria, we have been appalled by the government's reckless use of violence and disproportionate force against peaceful civilians. We believe these abuses demand unequivocal diplomatic condemnation from the United States. Moreover, such gross human rights violations require additional action by the United States to eliminate any complicity with official actions blatantly at odds with American foreign policy principles, to advance the work of democratic reform in Nigeria, and to reinforce our shared obligations to international human rights agreements.
On 8 October, demonstrations erupted across Nigeria when a video surfaced showing officers from the Special Anti-Robbery Squad (SARS) shooting an unarmed man. Nigerian youths organized peaceful protests across the country, uniting around demands known as "5for5," calling for: the release of protestors being held, justice for victims of violence and their families, the formation of an independent body to oversee investigation and prosecution of perpetrators, psychological evaluations and retraining of officers formerly in SARS, and increasing police salary. On 20 October 2020, in what has become known as the "Lekki Toll Gate Massacre" or "Black Tuesday," the Nigerian army shot and killed at least 12 unarmed protesters singing the national anthem and holding the Nigerian flag while over 120,000 people worldwide witnessed this brutality on social media live streams. This pattern of violence by security forces, resulting in the deaths of at least 56 peaceful protestors in different incidents across Nigeria, obligates the international community to act.
For years, SARS has committed systematic human rights violations. Even before the protests erupted in October, Amnesty International documented at least 82 cases of torture, ill treatment and extra-judicial execution by SARS between January 2017 and May 2020. Such abuses continued despite the passage of Anti-Torture Legislation by Nigeria's National Assembly in 2017. Recurring failures to reform the police over the last two decades have fostered an overall climate of impunity. President Muhammadu Buhari has neither responded to the 5for5 demands, nor taken adequate steps to stop the unwarranted killing of peaceful protesters. In a recent letter to President Buhari, the U.S. Congressional Black Caucus urged him to do so.
The Nigerian government is obligated to uphold the right to non-violent protest and ensure the safety of protestors in accordance with Chapter IV, Section 40 of the Constitution of the Federal Republic of Nigeria 1999 (as amended), Article 20 of the Universal Declaration of Human Rights, and Article 21 of the International Covenant on Civil and Political Rights. Article 11 of the African Charter on Human and Peoples' Rights also guarantees the right to peacefully assemble, and Article 5 prohibits torture and cruel and degrading treatment of persons.
We therefore urge the United States to:
Use the authority granted under the Global Magnitsky Act to place targeted sanctions, including asset freezes and travel bans, on politicians, officials and other Nigerians implicated in recent human rights abuses. These incidents should include but not be limited to the Lekki Toll Gate Massacre, various attacks on protestors since October 8, and other abuses of Nigerians engaged in peaceful free speech activities. Consistent with the December 2017 Executive Order on "Blocking the Property of Persons Involved in Serious Human Rights Abuse or Corruption," the sanctions should apply to SARS and other special police units determined "to be responsible for or complicit in, or to have directly or indirectly engaged in, serious human rights abuse." As scholars of Nigeria, we believe such steps would advance democratic reform efforts and hold abusive security services accountable. As the Black Lives Matter movement in the United States has poignantly reminded us, democracy and rule of law cannot flourish amidst impunity.
Suspend security assistance and military sales to the Nigerian police and security forces implicated in or broadly culpable for violence utilized against #EndSARS protesters until the Buhari administration fully complies with relevant laws and policies to ensure accountability for human rights violations.
Support the authorization of a panel of experts under the United Nations Human Rights Council. The panel could investigate human rights violations by the Nigerian security services, identify alleged perpetrators and hold them accountable. Such a process could broadly engage Nigerian authorities alongside other stakeholders in order to achieve a public accounting that would promote truth, healing, and democratic reform.
Support the International Criminal Court's ongoing preliminary examination in Nigeria by offering assistance to a widened inquiry that includes the Lekki Toll Gate Massacre and SARS-related atrocities. A critical first step in providing such support is for the administration to immediately rescind the June 2020 Executive Order used to sanction the ICC Prosecutor Fatou Bensouda and one of her senior officials. Thereafter, the U.S. should offer in-kind support to the Office of the Prosecutor at the ICC in its efforts to gather evidence about individual perpetrators accused of atrocity crimes arising out of SARS abuses.
We, the undersigned scholars, stand in solidarity with the people of Nigeria in their quest to strengthen rule of law and advance democratic reform. We hope your incoming foreign policy administration will fully commit to the above requests, which we believe will both strengthen Nigerian democracy and America's enduring friendship with a critical African ally and friend. We look forward to hearing from you soon. Institutional affiliations are listed for identification purposes only and do not indicate an organizational endorsement.

Sincerely,

A. Carl LeVan, American University
Chiedo Nwankwor, Johns Hopkins-SAIS
Patrick Ukata, Halsik Group
Rita "Kiki" Edozie, University of Massachusetts – Boston
Olufemi Vaughan, Amherst College
John Campbell, Council on Foreign Relations
Steve Feldstein, Carnegie Endowment for International Peace
Mojubaolu Olufunke Okome, Brooklyn College – CUNY
Onwubiko Agozino, Virginia Tech
Matthias Chika Mordi, Johns Hopkins – SAIS
Brandon Kendhammer, Ohio University
Omolade Adunbi, University of Michigan – Ann Arbor
Shobana Shankar, Stony Brook, SUNY
Hilary Matfess, Yale University
Cajetan Iheka, Yale University
Adrienne LeBas, American University
David Laitin, Stanford University
Judy Byfield, Cornell University
Richard Joseph, Northwestern University
Matthew T. Page, Carnegie Endowment for International Peace
Amina Mama, University of California, University of Ghana, Feminist Africa
Deborah Brautigam, Johns Hopkins University – SAIS
Cheryl O'Brien, San Diego State University
Larry Diamond, Stanford University
Daniel Jordan Smith, Brown University
Nathan Hosler, Office of Peacebuilding and Policy, Church of the Brethren
Faith I. Okpotor, Moravian College
Abosede George, Barnard College – Columbia University
Farooq Kperogi, Kennesaw State University
Hannane Ferdjani, former Nieman Fellow at Harvard University
Bobby Digi Olisa, Nigerians In Diaspora Organization New York /Canvas Institute INC
Kara Roop Miheretu, Pennsylvania State University
Rebecca Rwakabukoza, Northwestern University
Beth Evans, Brooklyn College, City University of New York
Jacqueline Copeland, Black Philanthropy Month and The WISE Fund
Chenise Calhoun, Tulane University
Gretchen Bauer, University of Delaware
Oyeronke Oyewumi, Stony Brook University
Funmilayo Agbaje, University of Ibadan, Nigeria
Ousseina Alidou, Rutgers University
Peyi S Soyinka-Airewele, Ithaca College, Ithaca NY
Modupe Oshikoya, Virginia Wesleyan University
Namulundah, Brooklyn College, CUNY
Mònica Cejas, Universidad Autónoma Metropolitana-Xochimilco (Mexico City)
Carolina Bank Muñoz, Brooklyn College
Elias Bongmba, Rice University
Rose Ndengue, Université de Rouen
Zola Makosana, University of the Western Cape
Kathleen Barker, City University of New York: Medgar Evers College
Chika Okoye, Rutgers University
Prudence Cumberbatch, Brooklyn College
Jill M. Humphries, University of Toledo
Mark Ungar, Brooklyn College
Mobina Hashmi, City University of New York
Zachariah Mampilly, City University of New York
Therese McGinn, Self-employed
Amy Kraizman, CUNY The Graduate Center
Anita Plummer, Howard University
Anene Ejikeme, Trinity University
Adryan Wallace, Stony Brook University
Jean Eddy Saint Paul, City University of New York: Brooklyn College
Nasim Almuntaser, City University Of New York: Brooklyn College
Saheed Aderinto, Western Carolina University
Emmanuel Balogun, Skidmore College
Gabriel Bámgbóṣé, Rutgers University-New Brunswick
Naluwembe Binaisa, University College London
Ifeoluwa M. Olawole, American University
Aderonke Adesola Adesanya, James Madison University
T.D. Harper-Shipman, Davidson College
Oceane Jasor, Concordia University
Zandi Sherman, Rutgers University
Rose Ndengue, Université de Rouen
Jacob Olupona, Harvard University
Judith Van Allen, Cornell University
Aderonke Adesola Adesanya, James Madison University
Professor Stella M. Nkomo, University of Pretoria, South Africa
Omowumi Olufunbi Elemo, James Madison College, Michigan State University
Candy Dato, Retired
Laurel Lesio
Kevin Mcgirr, UCSF
Pauline Halpern Baker, The Fund for Peace
Darren Kew, University of Massachusetts, Boston
Barbara M. Cooper, Rutgers
Meredeth Turshen, Rutgers University
Clovis Bergere, University of Pennsylvania
Justin Mullikin, Rutgers University
Oghenetoja Okoh, Loyola University Maryland
Faith Adogame, Rutgers University – Newark
Paul M. Lubeck, Johns Hopkins University – SAIS
Names added since November 13
Jon Kraus, SUNY at Fredonia
Leonard Wantchekon, Princeton University
Beth Elise Whitaker, University of North Carolina at Charlotte
Jean Claude Abeck, Africa Center for Strategic Progress
Susanna Wing, Haverford College
Peyi Soyinka-Airewele, Ithaca College
Nicolas van de walle, Cornell University
Doyin Coker-Kolo, Indiana University Southeast
Laura Thaut Vinson, Lewis & Clark College
Leonardo A. Villalon, University of Florida
Scott Pegg, Indiana University–Purdue University Indianapolis
Olajumoke Ayandele, Rutgers University